" Best Publique Hospitals & Private Clinics in France "
If you are seeking healthcare assistance in France, you will be pleased to know that French hospitals and its medical facilities are among the finnest in the world. For example, in Europe alone, the APHP – Assistance Publique Hôpitaux de Paris, holds the number 1 spot as the best European Hospital !
Top 3 Best Hospitals in France (2019)
Public Hospitals
CHU, Bordeaux (Gironde)

CHU, Lille (Nord)

CHU, Toulouse (Haute-Garonne)
Private Clinics
Polyclinic de Reims-Bézannes (Marne)

Santé Atlantique, Saint-Herblain (Loire-Atlantique)

CH Privé Saint-Grégoire (Ile-et-Vilaine)
Paris Area - Top Public Hospitals
Hôpital de la Pitié-Salpêtrière 
Hôpital Européen Georges-Pompidou
Hôpital Cochin
Dental & Oral - Top Hospitals
Public Hospitals
Hôpital Européene, Marseille (Bouches-du-Rhône)
Ch Métrople Savoie, Chambéry (Savoie)
CHR de Metz-Thionville-Hôpital Bel-Air, Thionville (Moselle)
Private Clinics
Pôle Santé Léonard-deVinci, Chambray-les-Tours (Indre et Loire)
Hôpital Privé de Marne -la-Vallée, Bry-sur-Marne (Seine-et-Marne)
Hôpital Privé du Confluent, Nantes (Loire-Atlantique)
Pediatric - Top Hospitals
Hôpital Necker-Enfants-Malades, Paris
Hôpital Robert-Debré, Paris
Hôpital Femme-Mère-Enfant, Bron (Rhône)
*Comment below if you want to know the top hospitals for any specialty!
In France, there are at least 1,400 public hospitals and private clinics with 79 medical and surgical specialties to date. However, not all French hospitals have emergency facilities. That's why you should check which hospital or clinic can offer the specialty you need.
If there's a language barrier, bring a companion who's fluent in French. True ! There are several hospitals in Paris with English-speaking staff, but this is not always the same for the rest of the health establishments in France. You can also use this list to help you when visiting hospitals in France. 
Here are some useful French phrases :
It's an emergency : C'est un cas d'urgence.
My name is… : Je m'apelle…
My telephone number is… : Mon numéro de téléphone est…
I live at… : J'habite à…
Help! : Au Secours!
Ambulance : Une ambulance 
I need an ambulance. : J'ai besoin d'une ambulance. 
Heart attack : Une crise cardiaque

My husband had a heart attack : Mon Mari a fait une crise cardiaque

Stroke : Un accident cérébrale

I think my wife suffered a stroke. : Je pense que ma femme a souffert un accident cérébrale

Choke : s'étouffer

My baby is choking : Mon bébé s'étouffe
I have difficulty breathing : Difficulté à respirer / J'ai la difficulté à respirer

To bleed : Saigner

I am bleeding a lot : Je saigne beaucoup

Hemorrhage: Une hémorragie

My husband had a hemorrhage : Mon Mari a fait une hémorragie

Concussion : Une commotion cérébrale

My child fell. Does he have a concussion? : Mon enfant est tombé. A-t-il une commotion cérébrale? 

Diabetic : Diabétique

I am diabetic. I need insulin : Je suis diabétique. J'ai besoin d'insuline.

Labour : Accouchement/Accoucher

My wife is giving birth. Her water has broken. : Ma femme accouche; la poche des eaux a percé. 

To be poisoned: S'empoisonner 

My child has been poisoned : Mon enfant s'est empoisonné.
Hospital in French is Hôpital and commonly known as, Centre Hospitalier. The French hospitals which can be found in the main cities are 'CHR' (regional hospitals), 'CHS' (specialist hospitals) or 'CHU' (university hospitals).
There are two types of hospitals in France: state-run Hôpitaux Publiques and privately-run Cliniques Privées. Some of these Cliniques Privées are state-approved and are members of the national health service. That's why your doctor (Generaliste / Médecin Traitant) may refer you to either a state hospital or private clinic. 
Remember that patients cannot go directly to specialists without a prior referral from a French doctor (Generaliste / Médecin Traitant) unlike in most countries.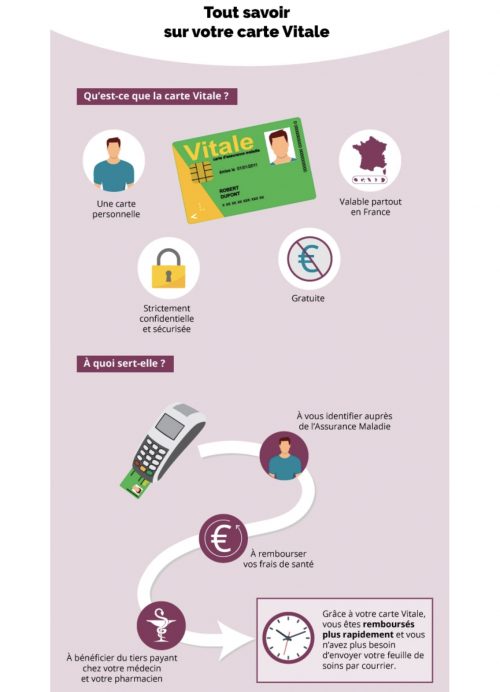 Up to 70% of hospital charges are reimbursed by the French Social Security or la Securité Sociale, but costs for your hospital stay or forfait journalier are not, which is where mutual health fund or mutuelle santé and supplementary insurance can be used to cover full hospitalization costs.
The healthcare system in France is accessible, even for foreigners, although you will be typically asked to show proof of French health insurance card – la carte Vitale or a social security certificate – une attestation de securité sociale such as : AME, CMU-C, ACS, MSA or Mutuelle Santé. For European Union citizens, they must present their European Health Insurance Card (EHIC), while non-EU visitors are required to show proof of medical insurance along with their French visa.
Finally, a person without insurance coverage who needs emergency healthcare will not be denied medical services because in France… C'est la santé avant tout ! It's Health above all !
– Clinician Nancy 
Textes de référence :
Ameli
APHP
Code de la Santé Publique : loi de 4 March 2002 – Démocratie sanitaire
Haute Autorité de Santé
Le Point