A French hospital project to avoid second wave contaminations at all costs.
Launched by the Assistance Publique-Hôpitaux de Paris (AP-HP) from four pilot sites. The project is complementary to the COVIDOM app and has been effective since Wednesday, April 15, at the Pitié-Salpêtrière. It is now also being tested at Bichat (18th) and Louis-Mourier in Colombes (Hauts-de-Seine), and since April 22 at Avicenne in Bobigny. 
Public hospitals such as : Robert-Debré (19th) and Hôtel-Dieu (4th) are due to open soon following the healthcare team of  APHP Pitié-Salpêtrière.
The project is named COVISAN and it is currently in the experimental stage.
What's the whole principle of COVISAN ?
In order to contain the transmission of the coronavirus, a mobile team of french healthcare providers will visit the homes of potentially contagious people with Covid-19.
to test and diagnose them 
to offer them isolation solutions such as equipment and hotel accommodation
The system was launched with the support of the Accor group of hotels and if necessary, these isolation solutions will be proposed to the infected persons and their families.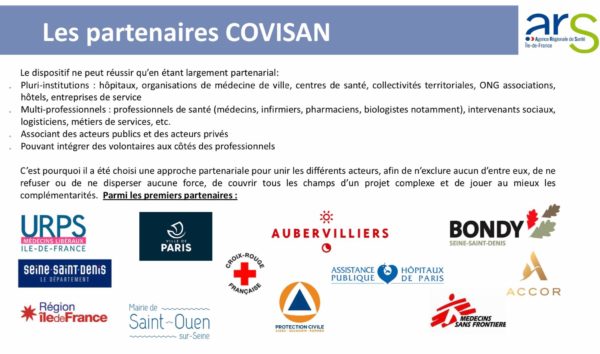 COVISAN will soon be extended to the entire Ile-de-France region and then to the entire country.
As announced by the French government, our aim should be to identify and isolate contaminated (and contaminating) people and their entourage, whose mild condition does not require hospital care. This is in view to the approaching deconfinement, scheduled to begin progressively on May 11, 2020.
Remember:
☎️ your generalist, if you experience any symptoms: cough, fever, conjunctivitis, severe fatigue, aches and pains
☎️ 15 for emergencies and when symptoms worsen with difficulty in breathing
☎️ 0 800 130 000 for non-medical questions, (7/7, 24/24)